Newman-Rogers Bible
(see also Newman Bible and Prayer Book on separate page)
---
Jonathan Newman-Rogers kindly sent me scanned copies of the fly-leafs of a Bible that has been passed down through his family since the end of the 18th century, when Francis Newman's estates were sold off, and (at his request) the name Newman added to his grandson Francis Roger's name. Jonathan also sent me a copy of a note about the Bible, written by Louisa Annie Rogers in 1947. Louisa's notes are appended to the bottom of this page.
The text at the top of the first page is (so far as Jonathan and I can make out): "The Gift of the right honourable Ann Countess of Exeter to Mrs Ann Newman which she after her decease gives to her son Francis Holles Newman 17th March 1685." This appears to have been signed jointly by Richard Newman and his wife Anne (née Harbord) and witnessed by a Mr(?) Salter. The Latin text below is still undeciphered.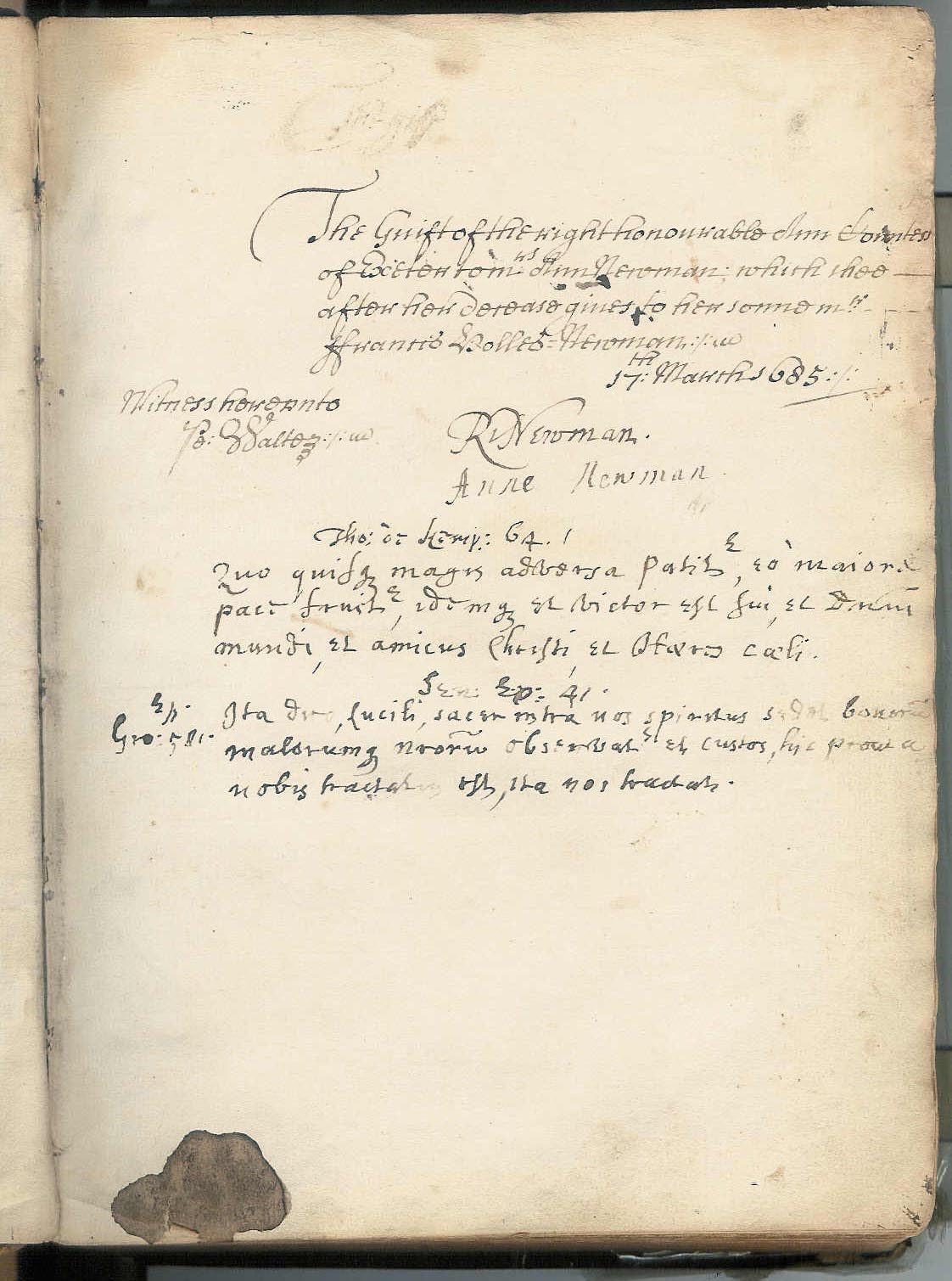 The second page and top of the third page was written by Richard and Anne's daughter-in-law Eleanor (née Mompesson), wife of Francis Holles Newman, listing the dates and times of the births of her nine children as follows: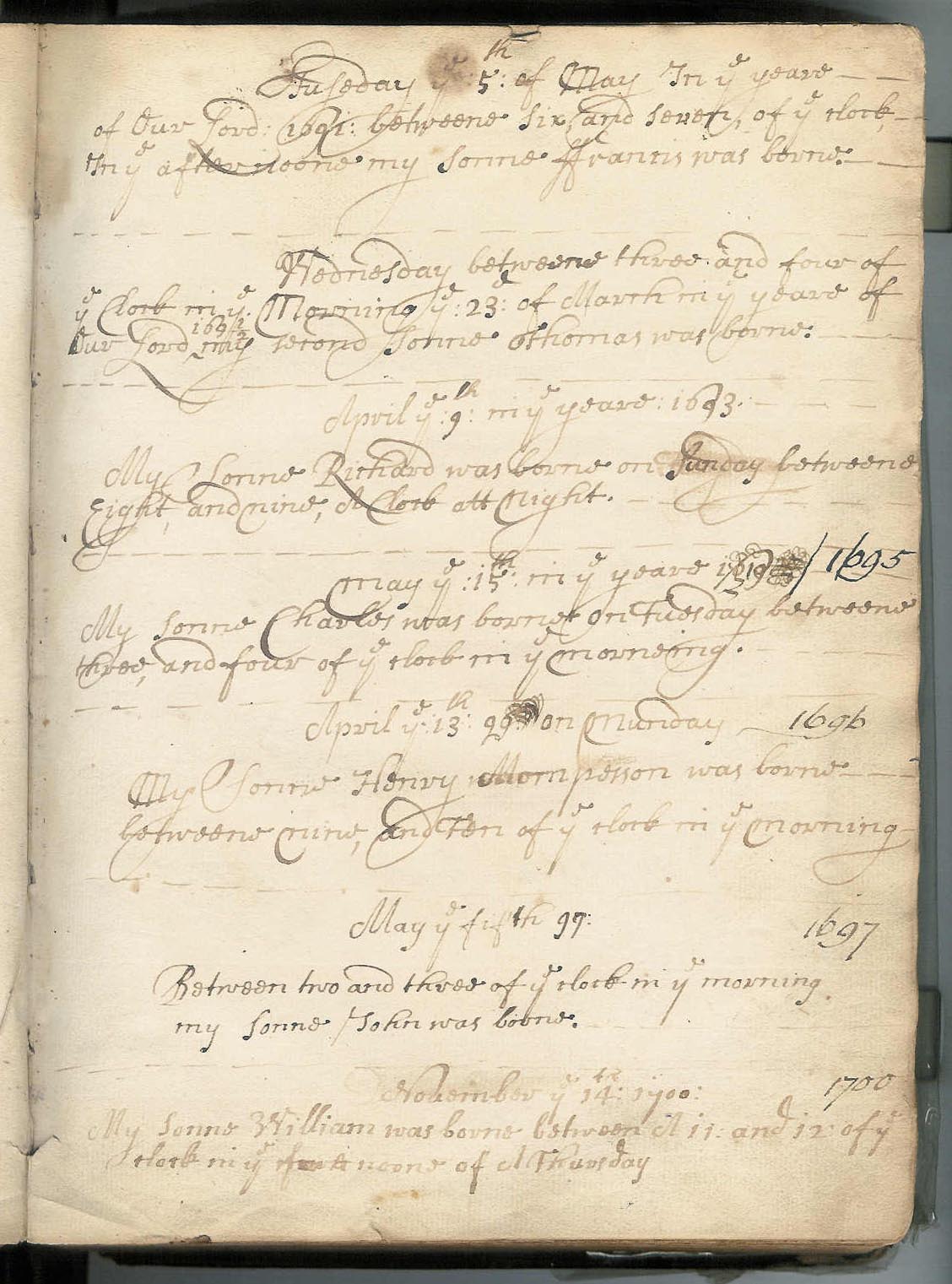 The next page Eleanor (née Mompesson) continues her "delivery records" with the words:
"July 28th in the Year 1703: Wednesday about one in the afternoon my daughter Eleanor was born." (and in another hand "died 1782")
There follows:
"September 14th 1706: between the hours of twelve and one at night my daughter Ann was born".
On the lower half of the third page is much later writing, saying:
"April 7th 1784, my grand-daughter Frances Newman was born at Tiverton in the County of Devon - at the time her Father and Mother lived at Furston House in the Parish of Cadbury, Devonshire."
The text refers to the birth of Francis Charlotte Newman, the only surviving child from the marriage of the cousins Francis and Frances Newman. Louisa Annie Rogers states (below) that the words were written by Frances's mother's father, Francis Newman of North Cadbury, which is presumably correct because Frances's mother Jane (according to North Cadbury antiquarian Sam Miller) died shortly after the birth of her granddaughter (Jane being buried at North Cadbury in August the same year 1784) and so was probably not alive when the note was written. It is most unlikely that the note would have been written by baby Frances's father's father (Henry Newman) because he was of the junior branch of the family and was less likely to have had possession of what by then had become quite an ancient Newman family heirloom.
Note: the village of Cadbury in Devonshire should not be confused with the two Cadbury villages in south Somerset. Cadbury in Devonshire is located about 20 miles north of Exeter and 15 miles south-south-west of Tiverton. Interestingly, it appears to have an ancient mound-type fortification nearby which (like the more famous and larger hill/fortification adjacent to South Cadbury) is called Cadbury Castle.
At the bottom of the third page is text that appears to have been written by Frances Newman, daughter of Francis Newman of North Cadbury mother of the abovementioned Frances, and wife of Francis Newman. It states:
"This book is the property of Frances Newman, wife of Francis Newman in the right of her husband the aforesaid Francis Newman. I give this book to my nephew Francis Newman-Rogers Esquire. (signed) Frances Newman widow, Piddletrenthide, January 17th 1823. May he live long and happily."
Frances was indeed a widow by then, her husband Francis having died in 1818 She lived on at Piddletrenthide a further 11 years until her death in 1834.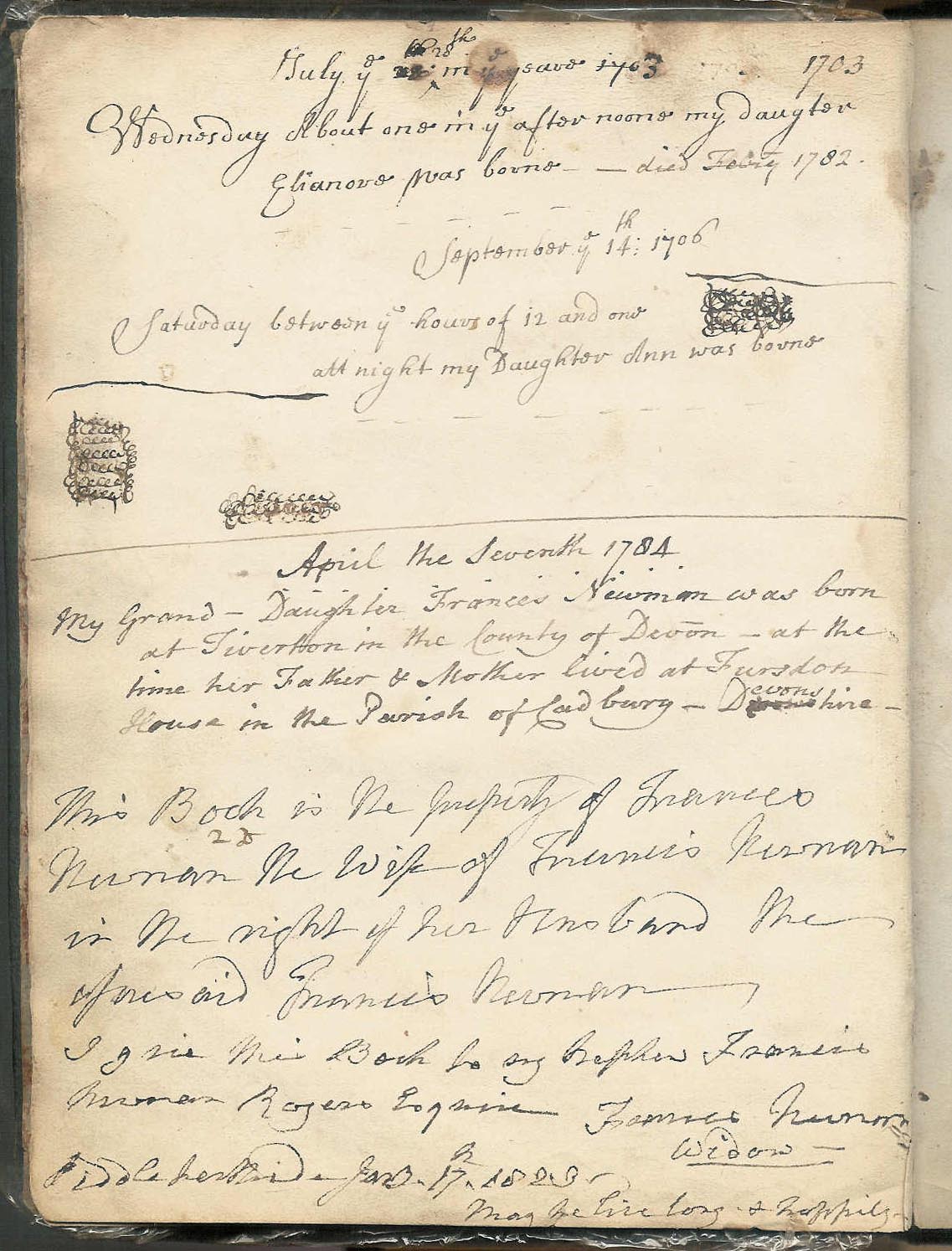 ---
Hand-written notes from Louisa Annie Rogers, 1947
The following hand-written notes were written by Louise Annie Rogers in 1947, and were also sent to me by Jonathan Newman-Rogers. The text refers to portraits of Richard Newman and Francis Newman of North Cadbury, the second of which came into the possession of his great-great-great-great-great-grandsons Jonathan and Alex Newman-Rogers in 2008. The text is as follows:
"I give these books to my son Francis Henry Rogers hoping he will interest them (sic) and pass them onto his son Timothy.

1685 They belonged originally to the wife of the son of Sir Richard Newman whose portrait you have. He was a loyal cavalier and granted a reward by Charles II. [See note 1 below]

1823 Frances Newman was eldest daughter of Francis Newman the Elder (portrait with his ??? ????) married her cousin Francis Newman. She left these books to the son of her sister, who married the Revd S. Rogers Rector of Queen Camel. Francis Newman-Rogers, who took the name of Newman at his grandfather's request. This Newman-Rogers married his cousin Julia Yea - became Recorder(?) of Exeter and rebuilt Rainscombe. Grandfather of my husband F.E.N. Rogers. (Signed) Louisa Annie Rogers. P.T.O. The portrait of the boy with a drum is of Francis Newman-Rogers." [Note - this portrait can be seen on Francis Newman-Rogers' page.]
Then following a blank page, but in the same hand:
"I give these books, which were given to me by my husband's uncle the Revd E.H. Rogers to my son Francis Henry Rogers in trust for his son Timothy, they belonged to Anne Newman 1685. Dates of birth of children.

In this book -

1784 Entry by Francis Newman (the Elder) of birth of his granddaughter - daughter of his daughter Frances and her cousin Francis at Fursdon. The marriage was unhappy and he went off to America and disappeared. She (daughter of Francis the Elder) left these books to her sister's son Francis Newman-Rogers. As old Newman had no male heirs he wished his grandson to take the name of Newman-Rogers.

In 1784 there were 4 Francis and Frances Newmans

Francis the Elder
his nephew Francis
his daughter Frances
their child Frances born 1784.

(Signed) Louisa Annie Rogers 1947."
The diary appears to have once belonged to Anne (née Harbord), wife of Richard Newman "the loyal cavalier whom Charles II rewarded". The story of Richard Newman's Civil War heroic exploits have been handed down through several branches of the family, and presumably date from at least as far back as Francis (Frank) Newman (d.1796). Perhaps it was he who created the myth (given his egregious reputation!).
I am much encouraged by the news that a portait of Richard Newman exists (or at least existed as late as 1947), but I have no idea as yet where it might now be. The same applies to the portait of Francis Newman the Elder also mentioned in the text.
Julia Yea must have been the daughter of William Walter Yea and Jane (sister of Frances Newman) - see note on Catherine Roger's page.