Frances Charlotte Cox (née Newman)
1784 - c.1846
---
Relationship to me:
First Cousin 4 times removed
Gen -4

Frances Charlotte Cox
as portrayed in a 1825 cartoon
(see below)

Born
1784 at Tiverton nr. Exeter, Devon
Died
c.1846
Age
approx 62
Father:
Francis Newman
1759 - 1818
Mother:
Frances Charlotte Newman
b.1758; d.Piddletrenthide Dorset 1834
Brothers:
Henry, stillborn December 1780. Buried North Cadbury 26th Dec 1780.
Francis, born May 1779, died June 1779. Buried North Cadbury
Sisters:

Augusta Catherine, born Nov. 1785, died May 1786. Buried at North Cadbury Church May 28th.
(Francis Newman, claimed that she was not his child.)

Married:
Robert Albion Cox c.1805.
Children:
apparently none
---
According to an inscription in the Newman-Rogers' Bible, presumably written by Francis Newman of North Cadbury:
"on April 7th 1784, my grand-daughter Frances Newman was born at Tiverton in the County of Devon - at the time her Father and Mother lived at Furston House in the Parish of Cadbury, Devonshire." (Note: Lydia Sheridan was living in Tiverton at the time.)
Frances was baptized on 9 May 1784 at the ancestral church in Cadbury, Somerset [source: British Roots of Maryland Families]. Within a month of her christening, Frances Charlotte's father abandoned her to start a new life with Lydia Sheridan.
The next we hear of Frances was in a Chancery Court hearing in 1786 when (aged 2) she was named as a co-complainant with her mother and grandfather in an attempt to force her father to pay an annuity to her mother (see Chancery Proceedings C12/629/31).
In 1794, Frances was named as a beneficiary in her father's first will. In 1796 her name also appeared in the will of her grandfather, Francis Newman of North Cadbury, as follows:
"To granddaughter Frances Charlotte Newman an annuity or clear sum of £40 payable to her guardian her uncle Rev. James Rogers during her father's life only where she will be otherwise well provided for - by two equal half yearly payments on the 1st April and the 5th October."
Around 1805 at the age of 21, Frances married Robert Cox, a banker from Dorchester some 12 years her senior. Seven years later, in 1812, the couple moved to London where Fox seems to have become a proprietor of a theatre in Drury Lane. At some stage he also became a London alderman.
Frances was not mentioned in her father's final will dated 1817 in which his then wife Elisabeth Hannah Friers became the principal beneficiary. This resulted in a legal dispute between Frances and Elisabeth that was heard in England in 1822 in which Frances claimed that her father "Francis Newman died in the month of March, 1818, having first made and executed his last will, bearing date 5th February, 1794; (in which he had) bequeathed the residue of his estate and effects to his reputed son, Elizabeth Francis George Newman, who also died in the testator's lifetime". Clearly Frances knew something of her father's life after leaving England, but she was mistaken about both the name and death of her half-brother Jean-Elizabeth, and she lost the case on the grounds that even if Francis's 1794 will was still valid, its beneficiary was still alive. The summary and judgment on the case can be found in "Reports of cases argued and determined in the English Ecclesiastical Courts", Volume 2 page 90 (see Google books). A similar report (edited by Sir Walter Scott no less) can be found on page 73 of the Edinburgh Annual Register of 1825 (reproduced by Google books) which includes several revealing letters written by Kean to Frances.
By then, Frances had become acquainted with the most famous Shakespearean actor of his day, Edmund Kean with whom she found herself back in court three years later (see below).
---
I am indebted to D. James Newton for the following information about a scandalous affair that took place between Charlotte and Kean, beginning sometime before 1820 and ending around 1823. James wrote as follows:
"I have written a screenplay called "A Loss Of Love" which is about the infamous actor Edmund Kean who trod the boards of Drury Lane from 1813 until shortly before his death in 1833. I myself trained and worked as an actor earlier in my career, so his life took on somewhat of a legendary status as I was a student. It's true to say that it has carried on to this day.

"My story focuses upon a pivotal moment in Kean's life, when at the height of his career he is sued by a former friend for Criminal Conversation with his wife (in other words, he had an affair!) Kean decided somewhat unwisely to contest the charge in court, for a number of reasons not least to stave off the dishonour that would have at the time been directed towards his own wife.

"The plaintiff in the case was the Alderman, Robert Albion Cox and his wife was Charlotte Francis Cox, née Newman.

"At the time, Charlotte was some 11yrs younger than Robert, who was a Banker and dealer in Gold, and during a performance of Othello by Kean in 1812 in Salisbury, Charlotte fainted during the scene in which Othello smothers his wife. Kean stopped the performance and had Charlotte carried to his dressing room where a physician was called.

"From this point grew a friendship between the Kean's and the Cox's. But for Edmund and Charlotte the relationship would develop further and become intimate.

"Kean was well known for his whoring and his own wife Mary, had turned a blind eye to his ways as it meant that she would not have to satiate his demands in bed. Sexual relations between the two had soured when as a struggling penniless actor on the road, their youngest son had contracted pneumonia and died at a very young age. Mary never forgave Edmund and blamed him for this death.

"When Kean became a star of the stage, women threw themselves at his feet and he dutifully obliged. But with Charlotte it was different. She was a little older than Kean and he was somewhat flattered by the attention of a woman who was intelligent and from a different class altogether. It's clear to me that Charlotte actually seduced Kean and he fell in love with her and wrote many letters which displayed his affection toward her.

"These letters were found by Robert Cox and were presented in court as evidence. This was damning evidence and Kean lost the case. He was fined £800 - although Cox had initially sought £2,000 for the 'loss of love'.

"By the time the case came to court on 17th January 1825, Charlotte had left Robert, (she had also split up with Kean some 2yrs previous) to setup with Robert's accountant Mr Whatmore. Whatmore too, was issued with a writ.

"Robert Cox died a broken man in 1826. Humiliated and broke. Charlotte moved on to marry Charles Lamy a grocer with whom she lived until her death around 1846.

"Kean never quite recovered from the fallout of the court case, Mary left him, his career waned and his health deteriorated and he died in 1833 never hitting the dizzy heights that he once enjoyed prior to the case. He was survived by his son Charles who himself was an actor of some esteem but nothing quite like his father.

"You can read more about the court case here which I have uploaded to my own website for you: http://www.asilverbullet.co.uk/downloads/coxvkean.pdf. This pretty much details the court case word for word. Supplements were printed by The Times Newspaper (nothing much has changed there!) and they sold 10,000 copies. The court case captured the heart of London, and riots ensued in the theatres in the immediate aftermath whenever Kean attempted to get back on the stage."
In later correspondence, James expanded his understanding of the story as follows:
"From my understanding Robert Cox had a series of failed investments which left him broke and I get the impression that by toying with Kean, Charlotte was preparing - in her mind at least - to leave Robert. There was absolutely no chance that Kean would leave his wife Mary, as they had been through so much together, he felt a great degree of loyalty towards her.

"Kean's parentage was dubious and his schooling erratic. It was his school teacher wife who taught Kean much of what he needed to know to transcend social class. Their eldest child Howard, died aged 5 whilst Kean was penniless and travelling by hand cart on the road somewhere between Southampton and Dorchester. I imagine that Mary never quite forgave Kean for the sacrifices he asked of his family in the pursuit of his career, and from this point onwards her priorities changed from supporting Kean to supporting their other son Charles. Kean also felt he had asked too much and later in life, was adamant his son Charles would go to Eton and never set foot on a stage. He wanted something better to come out of the family's sacrifice.

"Kean had numerous affairs, although it's safe to say that the one with Charlotte was much more sincere as she was able to offer him the love that he had lost with Mary. But he would never had divorced Mary.

"It's interesting that Charlotte then had an affair with a clerk in the employ of Robert Cox, a chap by the name of Whatmore. Again she was looking for a way out of the marriage but still Cox would not divorce her...Kean himself was noted for being very generous with his money, he was earning around £10-£15 per night and it's said that piles of cash were often left strewn about the house and he would dish out to anyone who had come upon hard times. Again another opportunity at payback.

"From my understanding it wasn't so much the affair that courted the headlines but the duplicitous nature in which it was done. Kean had sent 2 letters on the same day, one to Cox and one to Charlotte. Clearly something had happened in which Charlotte had almost given the game away, and there was a confrontation between Cox and Kean. Kean took offence to the aspersions that were cast and turned himself into the victim. Via letter he admonished Charlotte for her slack tongue and in another letter slammed Cox for the betrayal he felt at being so thusly accused. The reveal of this duplicity is what really caused the scandal. The actor. The player. The liar."
A vast amount of information about Kean, Charlotte and Cox can be found on the Internet, including the cartoon below that dates from the time of the court case in 1825. A copy of the 76 page Times supplement can be downloaded here (downloaded from James Newton's personal website at http://www.asilverbullet.co.uk/downloads/coxvkean.pdf).
The cartoon below is copied from the H Beard Print Collection: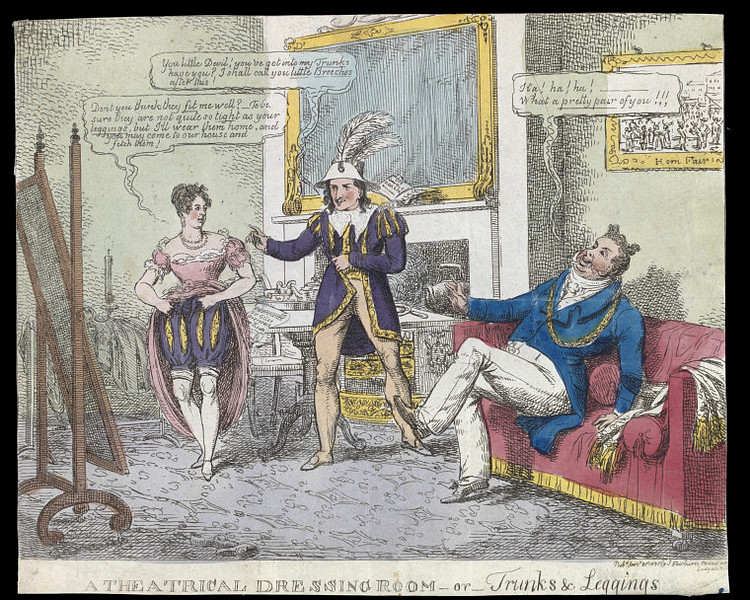 Print entitled 'A Theatrical Dressing Room, or, Trunks and Leggings'. Image satirises the affair between Edmund Kean and Charlotte Cox.
Published by J. Fairburn, 1825.
Two other excellent sources are from Google Books:
A shorter article on the subject can be downloaded here (its provenance unknown).
---
I'm grateful to Stephen Slater for the "Escutcheon of Pretence" used by Robert Albion Cox after his marriage to Charlotte as copied below from a book-plate that came into his possession. Stephen, who is an expert on heraldry, has identified several of the arms including Newman (top left), and those of Frances's g-g-g-grand parents, Mompesson (No 3) and Wyndham (No 8).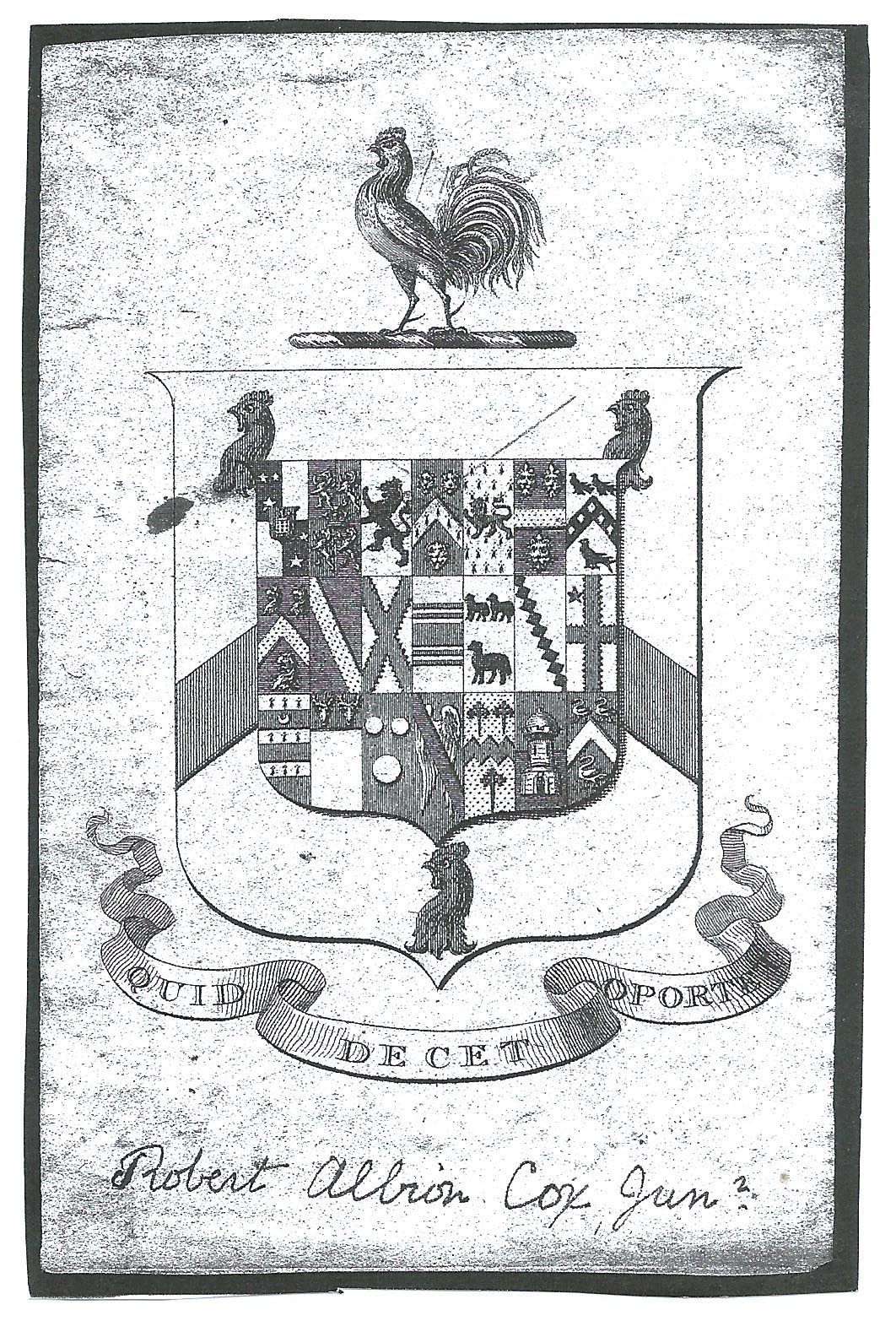 ---
Page updated 7 May 2020: Charlotte's "escutcheon of pretence" added (thanks to Steve Slater).
Page updated 19 Sep 2012: to include link to The Edinburgh Annual Register (edited by Sir Walter Scott).
Page created 16th Feb 2012: Information about Frances Charlotte Cox provided by D. James Newton