Rev. Henry Newman
1726 - 1798
---
| | | |
| --- | --- | --- |
| Relationship to me: | Great Great Great Great Grandfather | Gen -6 |
| Born | Jan 1726 | |
| Died | 1 Mar 1798 | |
| Age | 72 | |
| Father: | Charles Newman | 1694 - 1734 |
| Mother: | Hannah Sandys | d.1736 |
| Brothers: | (elder) Francis (Frank) Newman of North Cadbury | bap Aug 1717 - 1796 |
| | Charles Newman - buried at North Cadbury | bap Jun 1724 - 1794 |
| Sisters: | Ann | bap Jan 1718 - ???? |
| | Hannah | bap Sep 1722 - 1724 |
| Married: | Ann Underwood, daughter of Thomas Underwood, of Hinkley, Leicestershirem. m. 12th October 17561 | died 1786 (maybe) |
| Children: | Francis (emigrated to USA) | 1759 - 1817 (or 1818) |
| | Edwin Sandys | c.1762 - 1836 |
| | | |
---
Outline his Life: According to as-yet uncorroborated information given to me by Gerry Gandolfo, Henry's widowed mother, Hannah Sandys, died in 1736 when Henry was just 10 years old, after which he and his teenage brothers (and sister Ann, about whom nothing is currently known) were brought up by their grandmother, Eleanor Mompesson. Perhaps her influence over the two elder boys, Francis and Charles, was not to their benefit, given the evidence of their egregious behaviour presented in Francis's trial at the Court of King's Bench in 1776 (for further details of which, see Francis's page). It might be hoped that the younger Henry was of a different character and better infuenced by his grandmother. Given his status as a clergyman, and given that his grandsons Henry and Edwin seem both to have been respectable and respected men, then perhaps this was so.
Eleanor's influence over Henry lasted only five years, since she died in 1741. It is not known who then cared for the 15 year old boy, but he seems to have received an education at Oriel College Oxford and Emanuel College Cambridge (according to the Alumni Cantabrigienses from Somerset Records Office).
Around the age of 32, Henry was appointed rector to both Shepton Beauchamp and Sparkford where he remained from 1758 until his death on 1st March 1798. Most likely, the appointment was made by his elder brother Frank who likely held the advowson rights for Sparkford if not for Shepton Beauchamp as well. [Note - Some 16 miles separating the two parishes of Sparkford and Shepton Beauchamp. Perhaps Henry delegated one of the parishes - most likely Shepton Beauchamps - to a curate.]
On a visit to Sparkford in 2001, I was able to confirm the latter dates from the records displayed in the church (see photos of the beautiful church at Sparkford below). Henry's son Edwin Sandys Newman followed him as Rector as Sparkford, serving there for 38 years from the time of his father's death in 1798 until his own death in 1836. [See Priesthood in the 18th and 19th Centuries].
Note 1: The date of Henry's marriage to Ann Underwood comes from Ian Caldwell who wrote (on 17 Aug 2002): "I have found out the name of Henry Newman's wife. She was Ann Underwood, and they married on 12th October 1756 at Shepton Beauchamp, Somerset. according to one record. I found another record which gives their marriage as being on the same date but at Hinckley, Leicester, which is where Ann's parents lived (see Note 2 below). An Ann Underwood was christened on 22nd February 1735 at Ashfordby Leicester, the daughter of Thomas Underwood and Alice Robinson. This is probably the correct Ann, as her husband was born about 1732 at North Cadbury. He was rector at Shepton Beauchamp, which is why I think he may have been married there. However, they may have been married at Hinkely as one normally marries in the bride's home town. The marrige may have also been recorded at Shepton Beauchamp as this was Henry's parish? I found both records on the Familysearch.org site".
The date of Ann's death given as 1786 is speculative and based on an account of "the marriage settlement of Mrs. Ann Newman (deceased)" dated that year. It is not certain that this settlement relates to Ann née Underwood.
Note 2: Henry's eldest son Francis was born in Hinkley, Leicestershire in 1759, presumably at his mother's home.
Note 3: It is also noteworthy that in Francis Newman's 1776 trial, it was stated that there was an outstanding warrant against his brother Charles for a felony at Hinkley in Leicestershire (the village where Henry was married). The nature of the felony was not stated.
---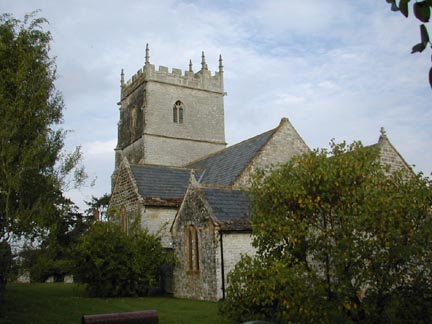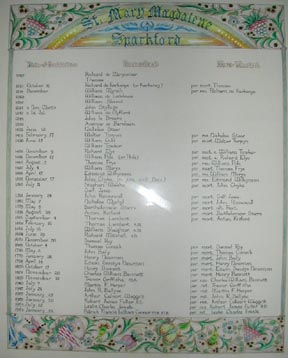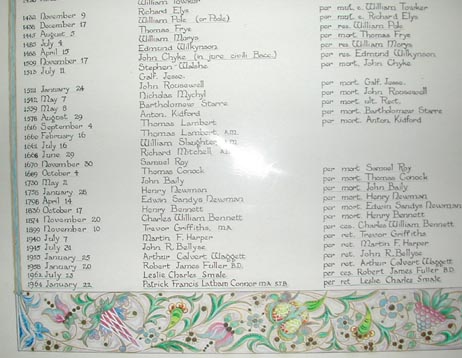 ---
Last updated: 15th Jun 2008