Westminster Connections
Old Palace Yard; Tufton Street and Tothill Street
---
References have been found to three separate Newman residences in the Westminster area:
Tothill Street:- Sir William Honeywood was son-in-law to Richard Newman of Fifehead (1620-1695). The History of Parliament's website describes Sir William as "m. 15 July 1675, Anna Christiana (d. 1736), da. of Richard Newman of Tothill Street, Westminster and Fifehead Magdalen, Dorset". This is the only reference tat Ive found that places Richarrd in Tothll Street. Perhaps it has the name wrong and Tothill Street should read Tufton Street.

Tufton Street:- Richard Newman of Evercreech Park 1650 - 1682 left a will in which he stated that he will "give unto my wife Mrs Grace Newman my House in Tufton street in the City of Westminster".

His father Richard Newman 1620-1695 left a later will saying: "I give and bequeath unto the said Sir William Honeywood and Peter Walter and to their Executors Administrators and Assigns for and during the remainder of my tenure therein All? those? my four Messuages or Tenements with their appurtenances situated in Tufton Street in the Parish of St Margaret Westminster? in the several occupations of myself, Francis Holles Newman my son, Edward Scott my Son in Law and heretofore of one Mrs Corfe". It went on to say "I give and bequeath unto my said daughter in law Mrs Grace Newman the house wherein she now dwells situate in Tufton Street aforesaid". It sounds from these extracts that the family possessed four (or even five) messuages or dwellings in Tufton Street.

Raymond Mercier also reported that Richard Newman 1620-1695 had a dwelling in Tufton Street which was probably inherited by his son. It may also have been owned by his father Richard Newman of Fifehead d.1664 since it appears to be he that is described in the purchase contract for Evercreech Park as Richard Newman of the City of Westminster. [My own view is that it was Richard (1620-1695) that purchased Evercreech Park, but I may be wrong. CJEN 2023]

Old Palace Yard:- In an Act of Parliament drawn up in 1754 to empower a committee of the estate of Elizabeth Kitchen to make leases during her lunacy, mentions the four children of Sir Richard Newman of Evercreech, viz: Sir Samwell, Frances, Barbara and Elizabeth, living in a tenement at the Old Palace Yard, Westminster. The Act describes the dwelling in quite disparaging terms: "Freehold Messuage or Tenement, in the said Parish of Saint Margaret, Westminster, is in such a decayed and ruinous State and Condition, that it will be absolutely necessary to pull down, rebuild, or substantially repair, the same: But it is apprehended, that no Person will take a Lease thereof, for the Purpose aforesaid, without having a long Term of Years granted of the said Premises."
Tufton Street, Tothill Street and Old Palace Yard are all located close to one another as can be seen in the maps below: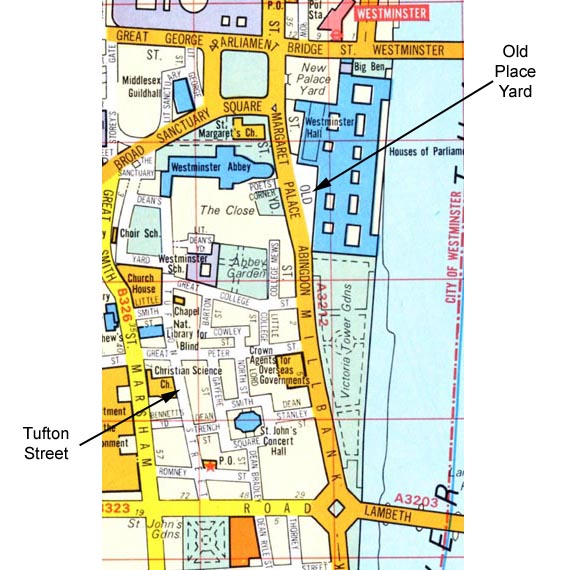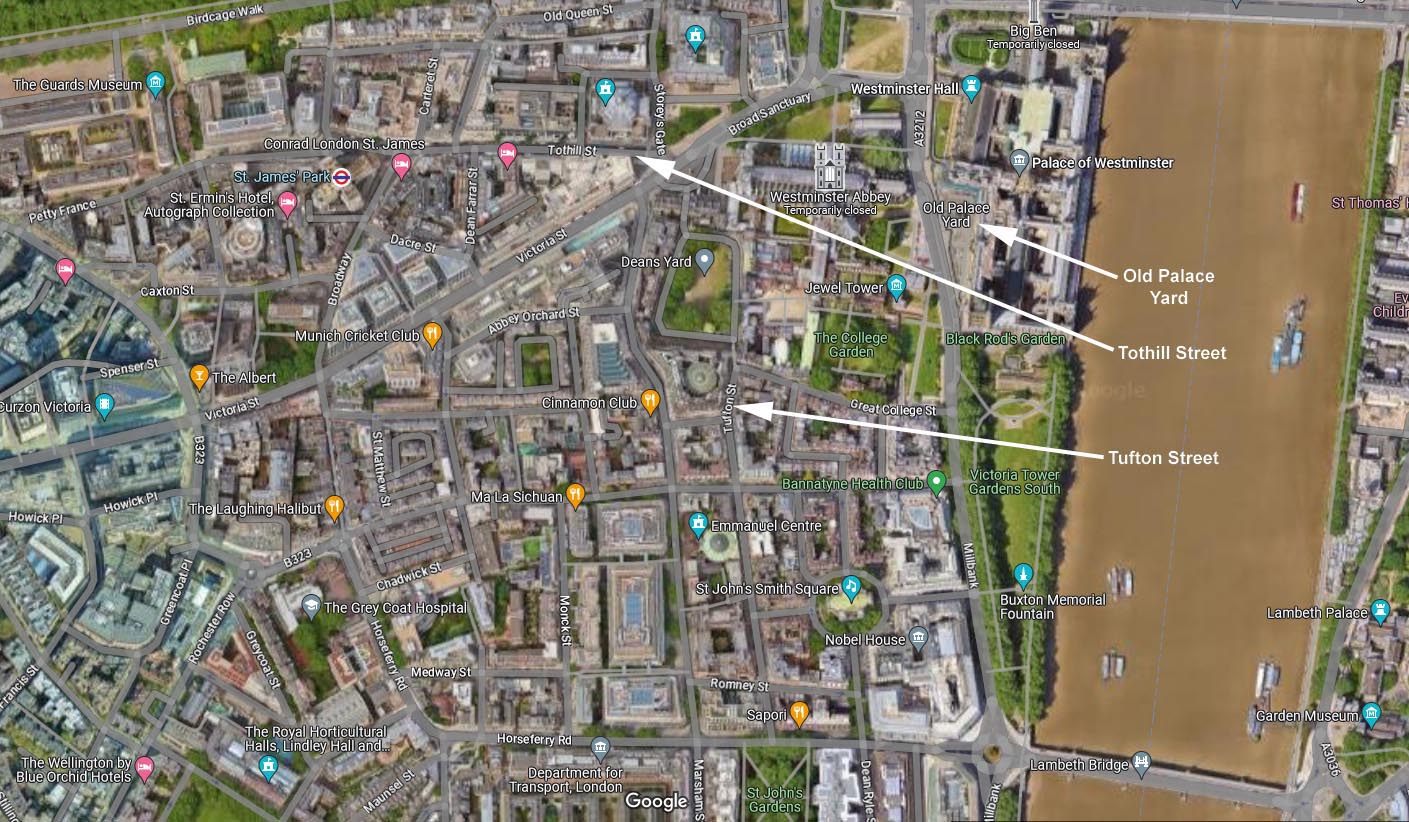 ---
Page created 23 Nov 2003