(Captain) Jean Elisabeth Francois Georges (Francis) Newman
1786 - 1851
---
Relationship to me:
First cousin four times removed
Gen -4

Capt Jean Elisabeth Francois Georges Newman c. 1850

Born
16th August 1786 in France# (1780 per Cliff Ranson's information)
Died
4th April 1851 in New Orleans
Age
65 (maybe 71)
Father:
Francis Newman
1759 - 1817
Mother:
Lydia Ferguson
Brothers:
none
Sisters:
none
Married:
(1) Barbara Antonia Ronquillo a cousin from a Spanish creole family Ronquillo y Solís
(2) Marie Manuela Solís (Spanish Creole, 1st cousin to 1st wife)
18 Dec 1794 - 24 Oct 1868*
Children:
(1) Octavia Barbara Newman, married Legier*
Francise Newman, married Depeit*
Elizabeth C Newman, married B. Robinson* - also see note## below
Amalia Newman, married Hugh Rose (nephew of President Munro)*
(2) Francis Newman
1823 - 1863 (or 1826 - 1865*)
John Francis Newman*
1827 - 1865
Lydia Euphrasie Newman
b. 1828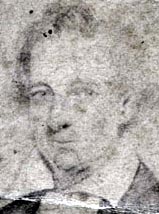 ---
The picture at right was sent to me on 28th Feb 2005 by Robert Baudier, one of Francis's descendants. A full-sized image of the picture can be viewed by clicking here. Robert also sent me photo of a Gracianne Newman who he believes may be one of Francis's daughters from his second wife Marie. Robert can supply high resolution images of these pictures to anyone who wants them. He also presents photographs of several of his ancestors at http://myweb.cableone.net/rbaudier/.

# 20 Jul 2002: Jerry Gandolfo wrote: "the date of birth of 16 August 1786, is correct – I have a copy of his baptismal certificate from France".

* 20 Mar 2012: information supplied by Jim Newman (probable descendant of Capt Francis).

## Jerry Gandolfo confirmed that "One of Captain Newman's daughters, Elizabeth, moved to Huntsville, and married a Reverend Robinson. She [had] a child who became Colonel Francis Hollis Robinson and Lydia, who married Hugh Ross, nephew to James Madison, (4th ) President of the U.S. and, author of the U.S. Constitution."
---
From David Chudleigh (a descendant of Francis) in an email dated 6 Dec 2011:
"I have a copy of a letter from the "Revolution and 1812 Wars Section" (I presume from the National Archives) dated 1 Dec 1930 that says "Francis Newman entered the service in Port Tobacco, Maryland, January 25, 1803, as a second lieutenant; was captain in the First Regiment U. S. Artillery, and was discharged at New Orleans, Louisiana, in April or May, 1815. He was allowed bounty land in full satisfaction for services rendered on his application executed November 30, 1850, at which time he was living in New Orleans, Louisiana, aged sixty-three years." Signed E.W. Morgan, Acting commissioner."
---
From Jerry Gandolfo: Francis Newman became an artillery officer in the U.S. Army. When the U.S. purchased the colony of Louisiana from Napoleon (1803), he moved with the army to New Orleans. There he married twice, to cousins, both members of a prominent Spanish Creole family (Ronquillo y Solís). During the War of 1812 he commanded Fort Petit Coquilles and participated in the repulse of the British invasion of Louisiana in 1815. (Family history holds this act, bearing arms against Britain, was the reason the family was cut off from any English inheritances.) He had thirteen daughters and two sons. He died in New Orleans in 1851.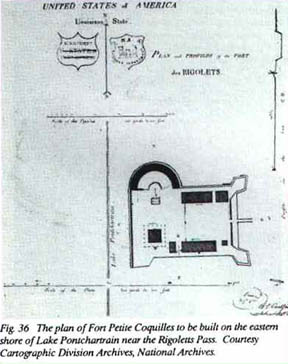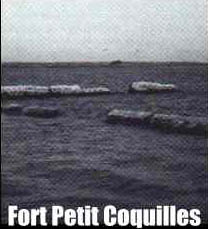 The old plan (above left), and the present remains (above right), of Fort Petit Coquilles where Captain Francis Newman of Louisiana commanded in fought from October 1814 to March 1815.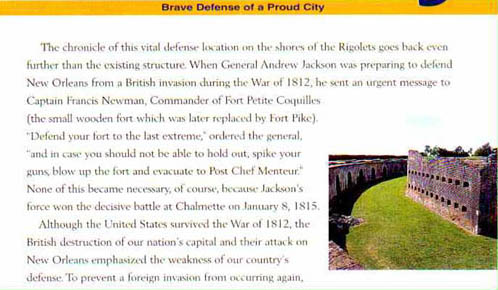 Jerry goes on to explain (in a second message): The U.S. and Britain were at war between 1812 and 1815 (called in the U.S., the War of 1812). The U.S. tried to incite Canada to revolt from Britain and was protesting the seizure of U.S. seaman on the high seas as British deserters. The war was disaster for the U.S.; Canada did not revolt, the British invaded and burned Washington, D.C. and finally took aim at severing the newly acquired Louisiana territory from the U.S. This later campaign, however, reversed the fortunes of all the prior military actions, ending in a British disaster. Captain Francis Newman (2nd), commanded a vital fort protecting the approaches to New Orleans. The war ended as it started with no gains or losses on either side.
Further notes from Jerry Gandolfo: Jean Elizabeth Francois Georges Newman (alias: Captain Francis Newman) Born in France in 1786. Commissioned U.S. Army artillery in 1803. Moved to Louisiana, USA 1803. Married 1st to Barbara Antonia Ronquillo (Spanish Creole) in 1804, widowed in 1815, and remarried in 1823 to Marie Manuela Solís (Spanish Creole, 1st cousin to 1st wife). Had 14 children in total; 12 daughters and 2 sons. Died 4 April 1851 in New Orleans, Louisiana, USA. [sources: various]
Jerry also advises: Susan Fitzgerald of Cincinnati, Ohio is a direct descendant of Captain Newman and his first wife, Barbara Ronquillo.
---
Photos below are of Capt Francis Newman's tomb in New Orleans (courtesy Jerry Gandolfo)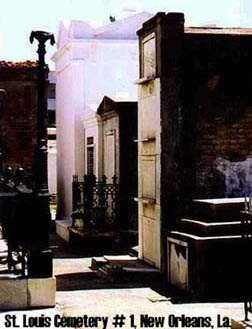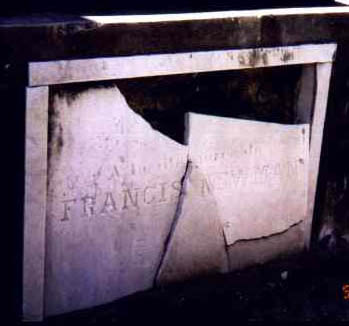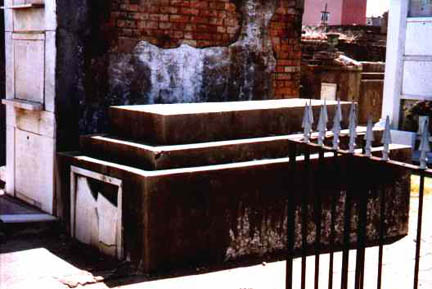 ---
Further information from Jerry Gandolfo dated 2 April 2004 as follows:
Besides the fact that his daughter, Elizabeth Newman, married the nephew (Hugh Rose) of James Madison, the 4th President of the United States, Captain Francis Newman apparently came into contact with General Andrew Jackson, the future 10th President of the United States, during the Battle of New Orleans (1814-1815). Jackson may also have been the original reason Francis Newman went to Huntsville, Alabama.
Francis Newman was a regular army captain of artillery when the War of 1812 came to New Orleans. For most of his career in Louisiana (since 1803) Newman had been under the command of Major General James Wilkinson. But, the outbreak of the war sent Wilkinson into Canada, defeat, and relief from any command. Meanwhile, Andrew Jackson, more of a politician than a general, was given command of the western frontiers of the United States, which included New Orleans. Jackson and Louisiana Governor William C.C. Claiborne were old and bitter rivals. Both had applied for appointment as Governor of Louisiana from President Thomas Jefferson. Upon arrival in Louisiana, Jackson marshaled the small regular army forces in the area and sent Captain Newman to command Fort Petit Coquilles guarding the most likely avenue of British advance upon the city. Then Jackson sent the following orders to Newman before the battle; "Defend your fort to the last extreme," ordered the general, "and in case you should not be able to hold out, spike you guns, blow up the fort and evacuate to Post Chef Menteur." [Ft. Pike-brochure]
Even after the battle, Jackson apparently still considered Newman and his position critical as is seen in the following record from the published collection of his letters.
Jackson MSS: Letter Book I, page 31,
Captain Newman, of the artillery, commanded at Fort Petit Coquilles.
To Captain Francis Newman New Orleans, March 9, 1815.

Sir. The General [Andrew Jackson] has not been advised of the existance of a peace as you have been informed Officially. He recd. By an express sent from the City of Washington on the 14th Ultimo a letter from the Post Master General stating that the bearer was charged with dispatches relative to a peace. Yet these dispatches did not arrive, but on the contrary a letter from the Secretary of war dated 13th Ulto. Ordering him to raise two regimen[ts] for the defense of the 7th M.D. agreeably to an act of Congress inclosed; It is probable that this letter may have been forwarded instead of the One intended, but the General directs that you continue to exercise the utmost Vigilence to prevent passage of any Vessell by your fort without his permission, and to guard against a Surprise. So soon as the General is officially advised of the existance of a peace you will be permitted, to visit the city. You will make out and forward to head Quarters a return for the number of Tents necessary to Cover your men.

I am respectfully By Command
Thos L. Butler aid-De-Camp

[Note: 7th M.D. = 7th Military District]
Personal Note for Newman: It appears from the above letter that Captain Newman wanted permission to come into New Orleans from Fort Petit Coquilles. Perhaps the main reason for this was because Newman's first wife, Barbara Antonia Ronquillo y Solís, might have been ill. In fact, she died only 16 days later on 25 March 1815. Either way, he was discharged from the army three months later on 15 June 1815.
Background of the Battle: The Battle of New Orleans was the closing act of the War of 1812. It consisted of three primary engagements; 14 December 1814 on Lake Borgne, 23 December 1814 near the Villeré Plantation, and 8 January 1815 at Chalmette, Louisiana. It is often pointed out that battle took place after the war's end since the United States and Great Britain had signed a peace treaty at Ghent, Belgium, on 24 December 1814. However, even if word of this could have reached Louisiana in time, the treaty was meaningless until ratified by both the U.S. Congress and British Parliament, (which did not occur until February 1815). The British naval and ground commanders' reputations are overshadowed by their more famous predecessors. Vice Admiral Sir Alexander Cochran succeeded to command upon the death of Admiral Horatio Nelson and Lieutenant General Sir Edward Packenham was second in command in Spain to his more famous brother-in-law, the Duke of Wellington. The British forces were veterans of the Peninsular Campaign in Spain against Napoleon, the sack and burning of Washington, the attempt to capture Baltimore (and would, in a few more months, become veterans of Waterloo as well). The American forces were overwhelmingly militia; including free men of color, Indians and the famous Baratarian privateers. Among the very few regular army forces was the small command at Fort Petit Coquilles under Captain Francis Newman, although, in fact, he was reinforced there by a company of Jean Lafitte's privateer artillerymen as well. The American commander was a backwoods militia general with no military experience beyond fighting Indians. He was Major General Andrew Jackson. Shortly after the conclusive battle of January 8th, it became common, although not official, knowledge in New Orleans that he war had ended. The overwhelmingly volunteer America militia immediately began clamoring for a discharge and the freedom to go home. The city of New Orleans, which was still under martial law, also wanted its freedom back. General Jackson, however, would not relax on any point until he had written verification and/or proof from his superiors in Washington. It was against this background that the preceding correspondence was sent to Captain Francis Newman from Jackson's Headquarters. Jackson, of course, rode his fame from this victory into the White House to become the 10th President of the United States in 1824.
Note: Newman, Jackson and Huntsville: Very shortly after the battle Captain Newman became a widower and resigned from the army. With several minor children, all daughters, he appears soon to have gone to Huntsville, Alabama. Evidentially, he was there partly on behalf of his father, Colonel Francis Newman in Maryland, to purchase land. While this may have been the purpose of his presence there ultimately, Eleanor Newman Hutchens, has offered the theory and very real possibility that he was drawn to Huntsville with Andrew Jackson. As she explained on 9 February 2002 in a letter to me, "Thanks to the military records you sent me, I now think JEFGN [Captain Francis Newman] may have come here [Huntsville] with Andrew Jackson when we threw a huge party for the general after the Battle of New Orleans [8 January 1815]. The house where it was held is still gloriously standing, just up the street from me. Jackson often came here, to race his horses and see friends. I note he was in direct communication with the Captain at the time of the battle. Maybe they were personally acquainted and Jackson talked him into coming here and buying property." Later, Newman's younger step-brothers, John Francis Newman and Francis Hollis Newman would appear in Huntsville with the later, a medical doctor, settling and leaving a family there.
Note: Butler, Newman and New Orleans: Thomas L. Butler, Jackson's Aid-de-Camp, had two sons, (as did Captain Francis Newman) who would return to New Orleans but, not as defenders. One he named Andrew Jackson Butler, the other Benjamin Franklin Butler. Benjamin Franklin Butler was elected governor of Massachusetts and as pro war Democrat at the time the Civil War broke out; Abraham Lincoln commissioned him a Major General. In 1862 Butler was the commanding officer of the U.S. Army forces which occupied New Orleans after Admiral David Farragut captured the city. Butler became famous, or infamous, in New Orleans as "Spoons" Butler due to his (and his brother, Colonel Andrew Jackson Butler) practice of sequestering (confiscating) spoons, silverware or anything and everything of value, as contraband and/or war material, from the citizens of New Orleans. In fact, it was Butler's creative use of the confiscation of slaves as war material as a de facto emancipation, that gave Lincoln the inspiration for Emancipation Proclamation (which incidentally excluded New Orleans/Orleans Parish and seven other southeast Louisiana parishes by name.) Butler was also infamous for his proclamation declaring the women of New Orleans who spat upon and cursed Union officers to be women of the street, applying their trade. The women responded by lining their chamber pots with his portrait. Butler was relieved from command in New Orleans in December 1862 and later commanded an army in the Virginia peninsular. Meanwhile, Captain Francis Newman's sons, Francis and John Francis Newman, went on to serve as officers in the Louisiana contingent of the Confederate army as a Captain and Lieutenant respectfully. Captain Francis Newman served with the 8th Louisiana with General Beauregard in Virginia in 1861 and 1862. (The Beauregard plantation, Contreras, was located adjacent to and, downriver from, Kenilworth Plantation.) By 1863 he had transferred to the 28th Louisiana where he contested General Grant's [future 18th President of the United States] movements and siege of Vicksburg, Mississippi. He was wounded in action at Vicksburg, then killed by U.S. Naval gunfire from a gunboat on the Mississippi River on 4 July 1863. His wife/widow and children survived the Union occupation of New Orleans and subsequent Federal reconstruction in Louisiana.
---
Last updated: 16 Sep 2012
- info from David Chudleigh
Updated: 18 Apr 2012 - info from Jim Newman
Updated: 3rd March 2005 - photos from Robert Baudier added